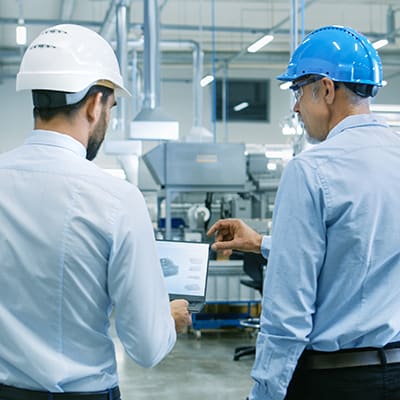 SUPPORT FOR MANUFACTURERS
Our commitment to your success doesn't end with our products. We offer customized solutions for the factory floor and beyond. You're working with a team that understands the challenges you face. We've spent more than 25 years supporting equipment manufacturers and factory-mounted controls. Turn to us for tailored solutions that can meet your unique needs, whether it's getting things started or getting production up to speed.
Pre-loaded controllers – When velocity is key, we offer the option to pre-load controllers at our factory. This can be the difference when you have a large order or when you have 100s of the same piece of equipment coming off the production line.
Expert assistance with control programs – Whether you're just getting started or you're trying to set up a more advanced control sequence, our expert support team is ready to offer you the asssistance you need.
Limitless customizability – From our web-based user interfaces to our touchscreen solutions, to testing and programming applications, our products are designed for customizability.
Training at every level – If you ever need help with technical documentation, training, or any of our applications, we're only a phone call away.
Access to the ALC network – Not only can you reach out to us for help, you'll also have access to the Automated Logic network of qualified branches and dealers. With 23 branches and more than 100 independent dealers worldwide, you can have the peace of mind of knowing that qualified help on your customer's job site is always close by.
Engineering for automation – Our solutions for automated factory download applications and customized end of line tests are designed to help you develop more efficient processes.